Working from home can feel like a dream come true. No more long commutes. Being in the comfort of your own home. Saving money that would have been spent on lunches and coffees out. Now while all of that is true, it also has its challenges. If you don't maintain your productivity you risk getting behind and worse losing your job.
The line between work and home can become easily blurred. You need effective strategies that you can put in place right now. A system that will ensure success.
I've been working from home for almost a decade now and I've certainly had my share of failures. But most importantly I've learned what really works. What you need to do to be highly productive and consistently deliver results.
While I know that everyone's situation is unique and it's certainly not a one size fits all scenario there are still some commonalities that exist.
You need to figure out how you will separate your home life and personal life. What your day looks like? How you are interacting with others? Where are you working? How are you measuring your successes or managing your time? Here are some tips to help you stay productive and focused when working from home.
1. Establish a Healthy Morning Routine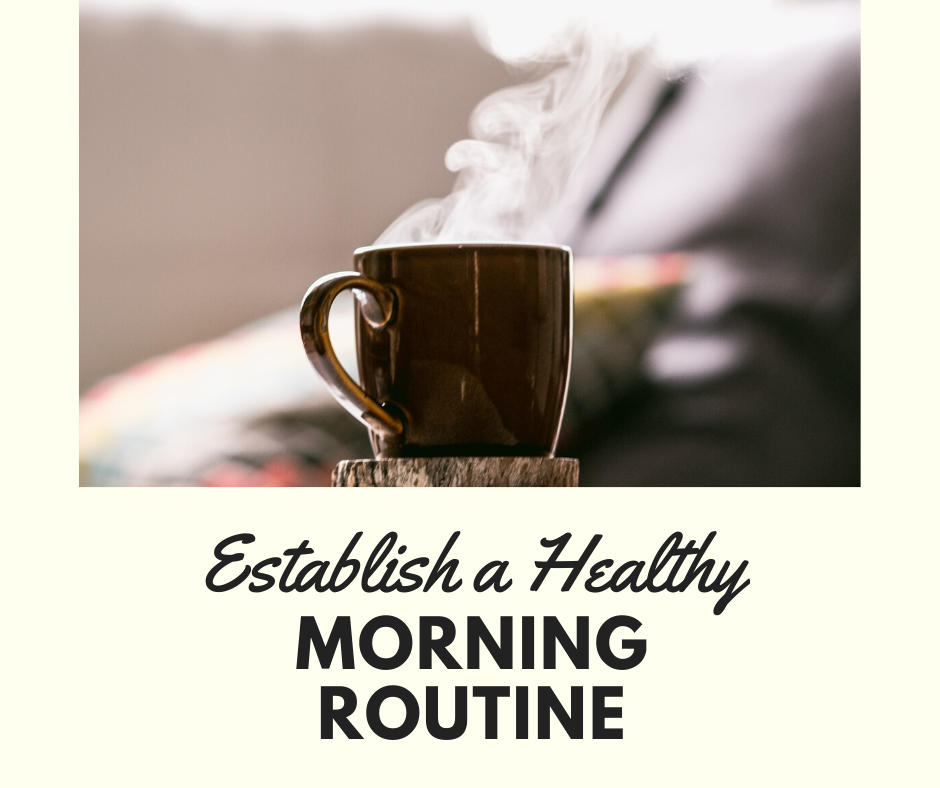 Ready to kick-start your productivity? It all starts with a healthy morning routine.
How you begin your day will determine how much you get done, what your energy will be like, and most importantly keep your stress levels in check.
Create a routine that is well planned out. Do it daily until it feels natural where you can literally go through the motions without thinking about it.
Here are some helpful tips to start your day:
Wake up at the same time each morning. Sticking to a regular sleep-wake cycle will help to regulate your internal circadian rhythm, which directly impacts the quality of your sleep. And the better your sleep the more productive you will be!
Drink lemon water as soon as you wake up. This will spike your energy levels physically and mentally. Lemon water gives you steady, natural energy that lasts the length of the day by improving nutrient absorption in your stomach.1​​​​​​​
Eat a healthy protein rich breakfast. This will help to stabilize your blood sugar and stave off hunger until noon so you can get lots of work done.
Make yourself a cup of coffee or tea. A little bit of caffeine in the mornings will get your brain ready for work.
Move your body. Whether it's yoga, walking your dog, 10 minutes on a stationary bike, or whatever tickles your fancy. The key here to get moving so that you can increase oxygen to you brain for higher alertness and productivity.
Take time for yourself. Scheduling as little as 15 minutes in the mornings for yourself will improve your mental and emotional health. Plus, it just makes you feel good. Try a little meditation or writing in a gratitude journal.
Make your morning ritual important as it sets the tone for the entire day. And make sure to avoid checking your phone first thing in the morning. Jari Roomer cited Dr. Hadi in his article stating that, "immediately turning to your phone when you wake up can start your day off in a way that is more likely to increase stress and leave you feeling overwhelmed".2
In the article, Dr. Hadi also added that your ability to prioritize tasks is negatively affected because of "The information overload that hits [you] before you're fully awake interferes with your ability to prioritize tasks."3 Try putting your phone on flight mode, so you don't have to deal with notification triggers as soon as you wake up.
Checking messages can trigger cortisol, which impacts your mental and emotional stability. It can contribute to you losing focus, not getting through your morning routine in time, and even impact productivity. Plus, you can be easily distracted and stay in bed longer disrupting your entire schedule. Get through your morning routine first and then deal with work related matters.
2. Create a Dedicated Workspace in Your Home
Having a designated workspace at home wires your brain into thinking that it's time to get serious and get work done. It's vital for productivity.
Find yourself a comfortable area in your home where you can work and make it your own. Forget about working on your bed, the couch, or anywhere that's too comfortable, as this can trick your mind into thinking it's time to rest. You want to feel energized in your space, not lazy.
It would be helpful to use masking tape on the floor to divide an area designated for working.

Nicholas Bate, Productivity Expert
Ideally you would want an entire room to turn into a home office, but if space is an issue consider a closet or marking off an area perhaps in your living room. Nicole Dieker cites productivity expert Nicholas Bate, who suggests it would be helpful to use masking tape on the floor to divide an area designated for working.4 Alternatively, rugs work wonders. Try using an area rug or even two runners.
Having worked from home for well over a decade now I can tell you that having a separate workspace has made all the difference. Throughout the years I have had numerous types of work-spaces. Probably one of my favorites was a walk-in closet that I transformed into an office. Sounds claustrophobic…quite the contrary – it was super cozy. I put up shelves, great lighting, added a bit of color and voila a space I really enjoyed.
In a previous home I setup my work area in the corner of the living room. This was o.k., but definitely not ideal. The couch was right beside my desk, which often called to me. Today I work in an extra bedroom of my house that I've turned into an office. It's great. I really love the separation from the rest of the house.
When you're setting up your workspace don't forget about ergonomics. Invest in a good chair that keeps your posture aligned. If possible, get yourself an electric table so that you can alternate between heights throughout the day. Plus, if you use an external mouse get one that is specifically designed for long working hours.
3. Keep Your Work Life Separate from Your Home Life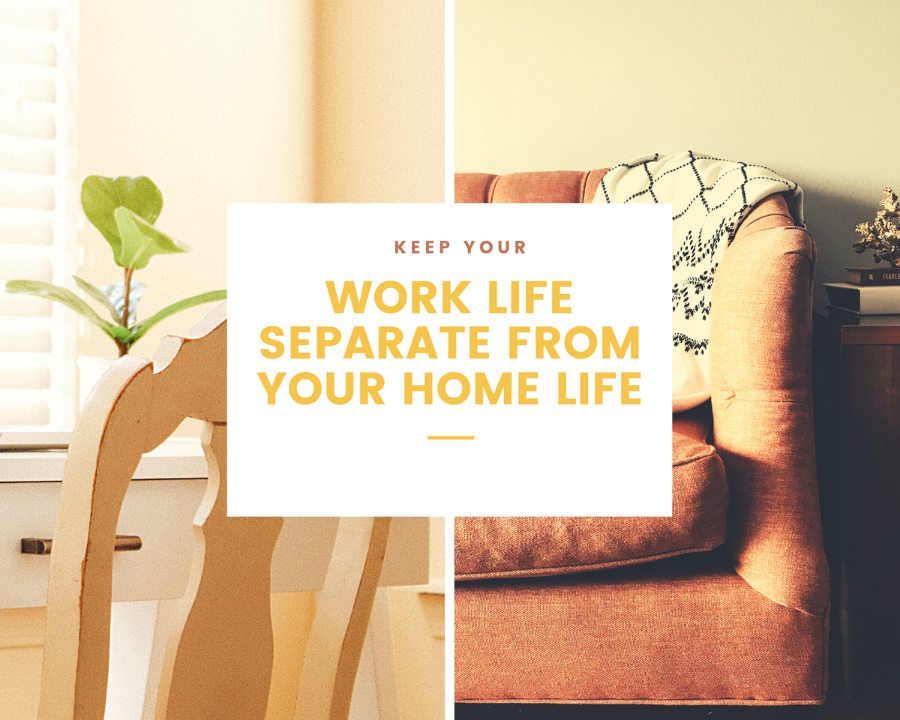 I think that from all of the working from home tips this one is probably the most challenging. It's so easy to get distracted, to lose focus, and let the day fly by without getting your work done. When I first started working from home I really struggled with this.
I remember spending hours during the day doing laundry and even watching TV. I'd take a coffee break, tell myself I'll only turn on the TV for 15 minutes and go back to work, but then would get pulled into an hour-long show. I would try to justify it in my mind and tell myself 'it's o.k. I'll work an extra hour today…'. It's a horrible trap. I had no discipline at all.
Today I don't even go into the living during the day. I'm super focused and have a rhythm and schedule that I follow. It's as if I was going to work in a regular office (except without the commute). I have a regular start time, set breaks, and try to end around the same time as well.
Sometimes living with others, especially if they are home during the day, separating work life can be difficult. Make sure that your family or room mates know that when you are in your designated workspace you are not to be disturbed (unless it's really important…goes without saying). Plus, whenever possible do not take personal calls during work time.
Household chores are tricky. For the most part I avoid them. However, I do sometimes throw on a load of laundry during my break time. But I think it can blur the lines and I do know many people recommend to avoid them altogether. I will leave this one up to you.
The next thing I want you to consider is what you are going to wear. And ladies how about makeup…yay or nay?
Getting dressed into some designated "working" clothes could be a great way to ensure you're able to do your job as you normally would in the office.

Charlotte Amitage, Media and Business Psychologist
Media and Business Psychologist, Charlotte Amitage suggests that, "getting dressed into some designated "working" clothes could be a great way to ensure you're able to do your job as you normally would in the office".5
She continues "the idea of staying in PJs all day has some negative connotations associated with it and therefore if we behave that way, we can start to feel lazy and demotivated which in turn leads to a lack of productivity and low activity levels, and consequently starts to create a negative vicious cycle".6
Even if you think that it is practical to work in your pajamas don't do it. Your mind associates your PJs with sleep. Getting ready in the morning can have a huge positive effect on your productivity.
Now what about makeup?
Personally, I've opted not to wear makeup during the day, but I will do my hair every morning. For me that makes me feel like I am getting ready to go to a real job. A good friend of mine swears by her lipstick. She says she can through her hair in a ponytail, be without makeup, but she must have her lipstick. It's all about mindset. What is that one thing for you that you must have in the morning to separate your home life and work life?
Working from home tips:
Work according to a set schedule
No disturbances while working
Avoid personal calls during working hours
Hold off laundry until end of day
Do not work in your pajamas
4. Set Your Goals and Manage Your Time Effectively
As mentioned in the previous section, it is important to maintain a regular schedule. Having a set start time for your day prepares your mind for productivity. It also ensures that you don't get overwhelmed by your workload. Using a time tracking tool like Toggl is extremely helpful. Turn it on when you start your day and off when you are finished. Just like clocking in at a regular job.
Next you want to take a look at how you are using your work hours. What are you doing? Are you being productivity? Is your work organized? Are you meeting deadlines?
You want to use your time effectively so that you can maximize your efforts. Begin by figuring out your overarching goals. What do you want to achieve? Make sure your goals are both quantitative and qualitative.
Here's an example:
I want to grow my website traffic by 20% over the next 6 months.
Once you establish the bigger goal that you are working towards then you can work backwards from that to figure out your monthly, weekly, and daily objectives. These objectives will then translate into tasks. Map that out. Know exactly what you need to do today to stay on track for the bigger goal.
Write down what you need to do today. Use whatever method is most comfortable for you. Some people love yellow sticky notes, others like using various project management software, or maybe you enjoy a gold old fashioned pen and paper. The medium is irrelevant. Some people like to plan their day the night before so that they know exactly what needs to be done when they start their day. Personally, I like planning first thing in the morning.
What are the things you need to get done today? What do you need to accomplish by this week? Prioritize your tasks according to their importance and create a sense of urgency by setting yourself a schedule with deadlines.
According to a study conducted by Dr. Gail Matthews, Psychology Professor at Dominican University in California, "those who wrote down their goals and dreams on a regular basis achieved those desires at a significantly higher level than those who did not. In fact, she found that you become 42% more likely to achieve your goals and dreams, simply by writing them down on a regular basis".
And if you are still struggling with time management and you find that your productivity is wavering, try using the Pomodoro Technique. This time-management system was developed by Francesco Cirillo in the late 1980s, which breaks your workday into 25-minute chunks, separated by 5-minute breaks. These intervals are called "Pomodoro's". After 4 Pomodoro's, you take a longer break for 15-20 minutes.
5. Communicate. Communicate. Communicate.
Working from home can be quite isolating especially if it is something that you are not accustomed to. You need to create a communication network to keep you connected to your co-workers.
Thankfully setting up communication channels is extremely easy. Today we have more team-oriented software available than ever.
Here are a few examples you might want to try:
Skype
Slack
Zoom
GoToMeeting
AirTable
Trello
ClickUp
Asana
Monday
Basecamp
Most of these tools offer more than just a place to chat. You can use them to manage your projects so that you can keep track of what everyone is working on. Try a few different options to find the one that best meets your needs. What may look flashy and enticing on the front may not be functional at all for your team.
Having the right tools at your disposal is a must to stay productive. It ensures that you remain focused so that you don't end up wasting time.
If on the other hand if you are a solopreneur just starting out, you too want to connect with people. Join Facebook groups with others in your niche. Get active in groups. There's a real synergy that happens with you connect with others.
Final Thoughts
Working from home certainly has its challenges, but hopefully these tips will give you the jump-start you need to get your productivity on track.
Remember to create a morning routine that gets you energized and motivated for the day ahead. Work in a dedicated area so you can train your brain to associate it with productivity. Plus, your family and room mates will know not to disturb you when they see you working.
And don't forget to manage your time well and set goals that move you towards the bigger picture. Communicate with co-workers or join groups so that you don't feel so isolated. Lastly, find ways to separate your work life from your home life.
---
References:
11 Tips to Transform Your Morning Routine and Make Your Entire Day More Productive | SUCCESS, 11 Tips to Transform Your Morning Routine and Make Your Entire Day More Productive, https://www.success.com/11-tips-to-transform-your-morning-routine-and-make-your-entire-day-more-productive/, Travis Bradberry
3 Reasons Why You Shouldn't Check Your Phone Within 1 Hour Of Waking Up, 3 Reasons Why You Shouldn't Check Your Phone Within 1 Hour Of Waking Up, https://medium.com/personal-growth-lab/3-reasons-why-you-shouldnt-check-your-smartphone-within-1-hour-of-waking-up-6ccb1264ec74, Jari Roomer
3 Reasons Why You Shouldn't Check Your Phone Within 1 Hour Of Waking Up, 3 Reasons Why You Shouldn't Check Your Phone Within 1 Hour Of Waking Up, https://medium.com/personal-growth-lab/3-reasons-why-you-shouldnt-check-your-smartphone-within-1-hour-of-waking-up-6ccb1264ec74, Jari Roomer
How to Create a Designated Work Space in Your Home, How to Create a Designated Work Space in Your Home, https://lifehacker.com/how-to-create-a-designated-work-space-in-your-home-1842453861
Working from home: why you shouldn't work in pyjamas, Working from home? Here's why getting dressed is more important than you think, https://www.stylist.co.uk/life/working-from-home-tips-get-dressed-never-wear-pyjamas-stay-productive-psychology/368185
Working from home: why you shouldn't work in pyjamas, Working from home? Here's why getting dressed is more important than you think, https://www.stylist.co.uk/life/working-from-home-tips-get-dressed-never-wear-pyjamas-stay-productive-psychology/368185